Fortinet Network Security

We provide certified technical expertise on a wide range of router firewall solutions, specializing in Fortinet, Cisco, and Meraki. We fit each client to the best overall solution based on their needs.
For those looking for a Cloud managed wireless, security, and networking solution, take a look at Meraki. More information is available here.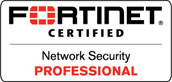 Network threats do not discriminate based on business size. But unlike enterprises, most small businesses and branch operations have limited finances and resources for preventing aggressive, complex and multi-pronged attacks.
FortiGate "Unified Threat Management" solutions from Fortinet is an all-in-one, network-based system for protecting small to mid-sized clients from a wide array of security threats at the perimeter of your
network.
Unified Threat Management provides protection from viruses, spam, and intrusion attempts while also providing the ability to filter websites by category - all at the router (before it gets into your network).
It's designed to be an all in one security appliance for small to mid-sized businesses.
All solutions include:
Firewall
VPN (SSL & IPSec)
Intrusion prevention
Antivirus
Antispyware
Web filtering
Antispam
Traffic shaping
24/7 global security monitoring and updates
Fortinet Highly Secure and Configurable Wireless Solutions
Fortinet's FortiAP devices provide an extremely secure and flexible solution for wireless. When combined with a FortiGate router/firewall, the access points utilize the router as a wireless controller. This integration allows much better control over your network. They support having office only wireless as well as guest wireless access. Solutions include basic password access to wireless as well as better security through RADIUS. More Information.
Fortinet Compared to the Competition
The following chart shows Gartner placing Fortinet as the leader in "Unified Threat Management" products compared to similar offerings from competitors.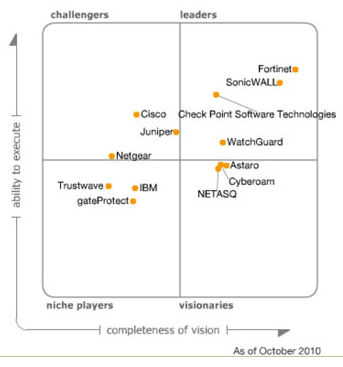 About Fortinet
Fortinet (NASDAQ: FTNT) is a worldwide provider of network security appliances and the market leader in unified threat management (UTM). Our products and subscription services provide broad, integrated and high-performance protection against dynamic security threats while simplifying the IT security infrastructure. Fortinet's flagship FortiGate product delivers ASIC-accelerated performance and integrates multiple layers of security designed to help protect against application and network threats.